my computer is in the shop AGAIN. I know. It is hard to believe. You know how Windows has those updates...well, after updating, there were instructions to restart the computer, the usual right? I hit the button to restart and had to run out the door to do a couple of errands. When I returned, the screen to sign in was not there. Instead the screen was black with the words:
Windows could not start because the following file is missing or corrupt. system 32/hal.dll. Please reinstall a copy of the above.
This incident happened last Wednesday.
I'll get my computer tomorrow
I'll get my computer tomorrow
I'll get my computer tomorrow
It worked for Dorothy....why not!
Marci had a great idea. I just love that girl.I brought my camera over to her house and she downloaded some pictures for
me.
Thanks Marci!
Last Friday Ella's elementary school celebrated "Grandparents Day" with an invitation to join them for lunch.
Ella requested Chik-Fil-A ...a girl after my own heart.

Have you had their lemonade? They even have sugar free and it's deeelicious.
I just found this recipe. I can't wait to try it.
Here are some pictures, thanks again Marci for downloading them.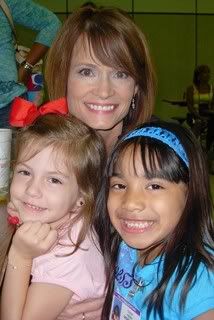 It was so much fun to watch Ella interact with the other kids and meet her new friends. Especially, one little blond boy. Evidently he sits by Ella on the bus and told me he sits by the girl he REALLY loves. He said Ella was a vampire because she has little teeth...the ultimate compliment of course.
O.K. now don't forget to send those computer wishes♥
I'll keep you posted (no pun intended~LOL)